Booth 109 PA Marketplace


PA Farm Show Hemp Promotion

My "Just say Know" campaign - common sense for True Cannabis Hemp
What the hemp is this all about
FOX 43 Harrisburg, put a great piece together on what exactly I've been doing at the PA Farm Show over the last 15 years. Did you make it to our booth in the PA Market Place? Could you get to it? Our spot has been pretty popular over the years. Please enjoy this look back over the years and we look forward to meeting you in 2022. More to share with you and your family showing how true cannabis hemp can create jobs, protect the environment and support renewable agriculture by our farming community.
It's not the first time reporters have come to talk to Shawn -
2022 Showing Dr. Oz
Running for Senate is a very busy task and there is lots to see and do at the PA Farm Show & here I briefly gave him a tour of hemp and the opportunities for Pennsylvania and it's farmers.
Part of the 16th year - Just Say Know about True Cannabis Hemp.
2010 Interviews by Les Stark after the farm show.
Hemp ties it all together
The chemurgy movement in the 1920's was what could have empowered farmers vs single source petroleum, renewable agriculture think of the old Bakalite radios / plant based plastics. 2021 we will be highlighting hemp plastic - straws & injection molded hemp beads to reduce fossil fuel and maintain structural integrity. Mike & Dave from WEEU radio where my favorite radio personality's at the show. WEEU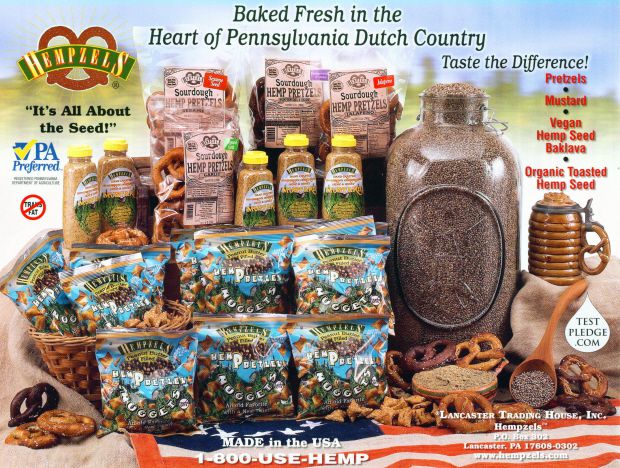 Hemp Foods
2005 to 2020 we've introduced a lot of great products over the years, remember the NataliesChoice Hemp Seed Baklava? or the Peanut Butter Filled Pretzel Nuggetz or the Pumpernickel and Onion Sourdough Hempzels or Sesame? - How about the Gluten Free Orgrasmic Chocolate Hemp Brownie -Product and production facilities have come and gone but we are here and plan on being back in 2022.
TOur our past products
Senator Folmer
I had contacted Senator Folmer and Senator Rohrer at the same time to advocate for hemp, he and others working in a bi-partisan way helped craft a more common sense approach to hemp ---regulation which I'm not a big fan of - we don't want to create monopolys but empower farmers to be competitive.
PA Hemp Conference
10 years later Les and Erica set up an event that drew a lot of attention to industrial hemp, the legislation and it was a media success. I spoke briefly and was not able to sit through the whole thing but Les & Hernanon Campos had a good wrap up.
Les & Hernan Wrap It Up - PA 2015
Every year at the booth we would see elected representatives, law enforcement, Penn State Ag insiders, international Citizens, you name it. Presidents of business & organization, lots of farmers and families. That was 10 years and lot of pretzels and or hemp seeds of knowledge that sown over time took root. Les Stark of the Keystone Cannabis Foundation and Hernan Campos of Bentirage Textiles & Clothing provide their prospective
Gluten Free Soft Pretzel
Our "wheat-free" / "gluten free" soft pretzel stix has been a big hit. We would take extra caution heating them for those with specific allergic reactions but overall many customers where avoiding wheat and they loved our hemp soft wheat free hot pretzel stix. Same formulation with hemp seed, flour and hemp oil but without wheat. We still do not have these "retail" packaged yet & ship in our bulk bags.
Read more
Thanks for looking - by chance do you have any pictures of my booth you can forward to me? Contact Me
Working to create jobs, buy american hemp and leave the world a better place
President Trump fired the DEA
We've had our battles as an industry when the DEA was trying to "ban" hemp foods by inserting regulations into the Federal Registry that in insense would have made "any" THC in food as illegal. Congress is who should pass laws and certainly when ever laws are passed their are limits and parameters set in motion just like the farmers testing their crops. So President Trump signed an executive order taking the power to regulate cannabis hemp from the DEA.
I've been a big advocate of #AbolishtheDEA - end the war on drugs.
The Pennsylvania Farm Show stimulates the mind, body and soul to agriculture. Our children are learning about the soil, the land, the animals and the plants. It's been an amazing journey & I am grateful for the children who have come through because they are the hope of our future to heal our nation. It starts at home.