Meet The Maverick
The Journey is not over, the foundation is being laid, the story will continue as the world continues to change. Consultations, joint ventures, networking, speaking. Find out more today.
Speaker

Shawn P. House
CEO Lancaster Trading House, Inc, Head

Hempzels™
It's been a long journey advocating for true cannabis hemp - Shawn has spoken to countless newspaper reporters, business owners, advocates and dreamers about what he is hoping to accomplish and leave as his legacy to creating jobs, protecting the environment and buying American made, value added products in the 21st century.
Hempzel's™ debut-history.
RIP Ralph Amato former CEO & President of No Problem, Inc. He financed and friends Mark Tucci of RYO & Muse "Uncle Don" Riese

Working with friends in Jamaica Ian and his wife Tamica were hand batiking hemp clothe that Ralph had local mennonite ladies custom sew outfits.

Finding hemp seed meal the first hemp pretzels were created in Uncle Don's kitchen in York PA by his wife Jane.

The recipe changed with the introduction of shelled hemp seed thanks to Hemp Pioneer Richard Rose The Original Hemp Nut.

Over coming the ban on hemp foods, the financial collapse, creating a family and advocating for full decriminalization of Cannabis hemp this About page will highlight the history-our story about creating jobs, protecting the environment and growing Lancaster County Hemp.
Fast forward to 2021 and everything is changing but our mission is still the same, contract with our farmers, work with our partners, expand the network, develop more applications for True Cannabis Hemp whether agricultural / industrial or medicinal. We recognize & respect the whole plant. January 2022 will kick of the Chemurgy show at he PA Farm Show.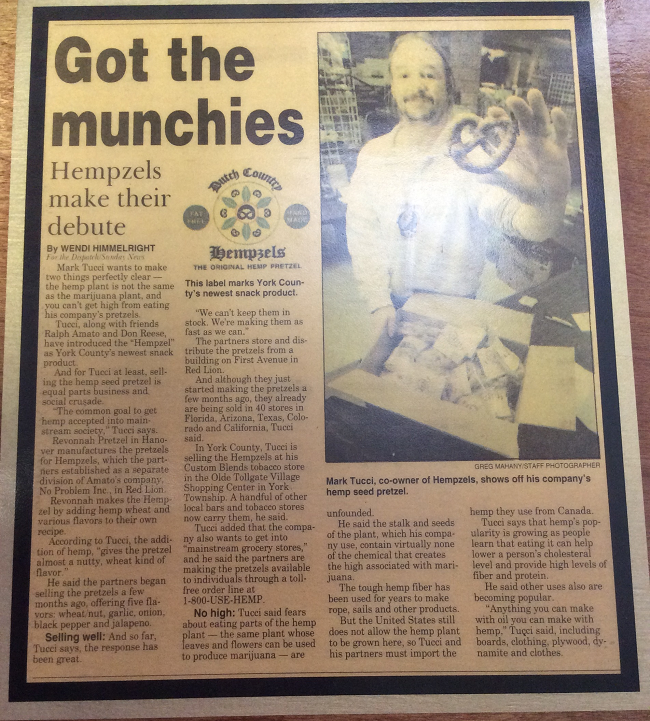 Hempzel's™ His-tory
Just Say Know Campaign A Life's Journey
8/7/2021 - This is still being filled in!
1992- House Brand Hemp Products - Friendly Chameleon Paper - Need to figure this out. Link to articles or small articles enlarge to readable format.
1990
.Genesee Natural Foods, Avatars,
Acre's USA - Shawn Meets Ralph Amato

March of 1997 Shawn had a booth set up as the Pennsylvania Hemp Industries Information Assocation
1997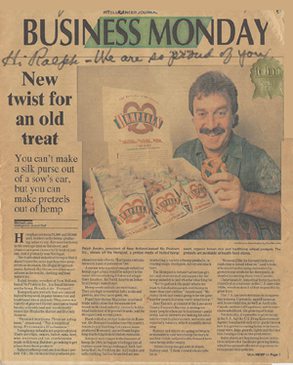 ...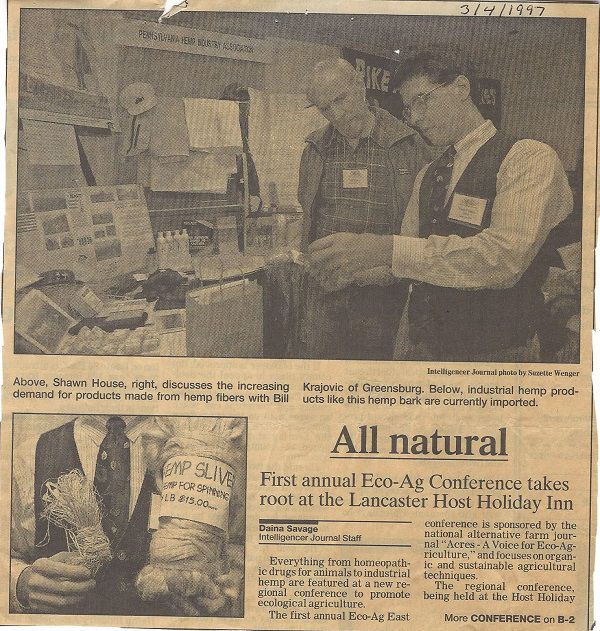 Journey to Canada
Back to Ohio
...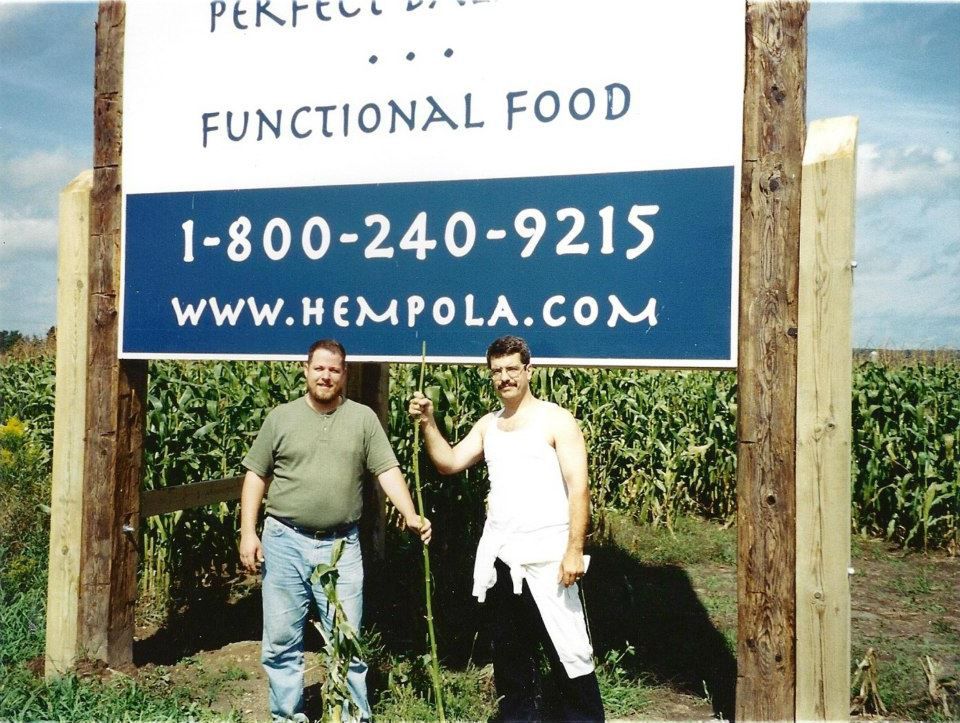 ...and switch the timeline contents to fit your needs.
Hemp Event Dinner - The day before the Pequea Silver Mine Hemp Fest.
1999
..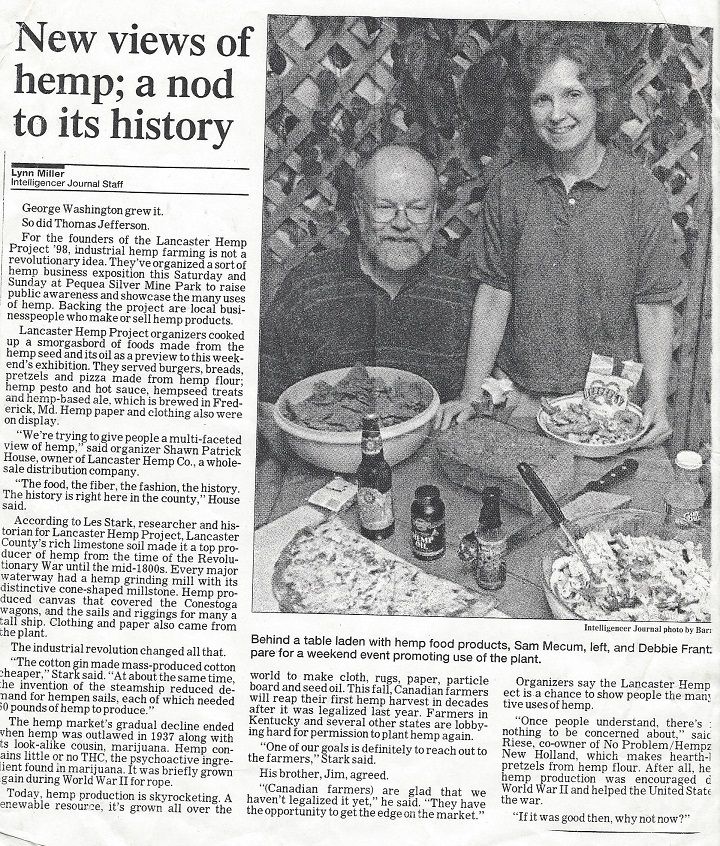 ...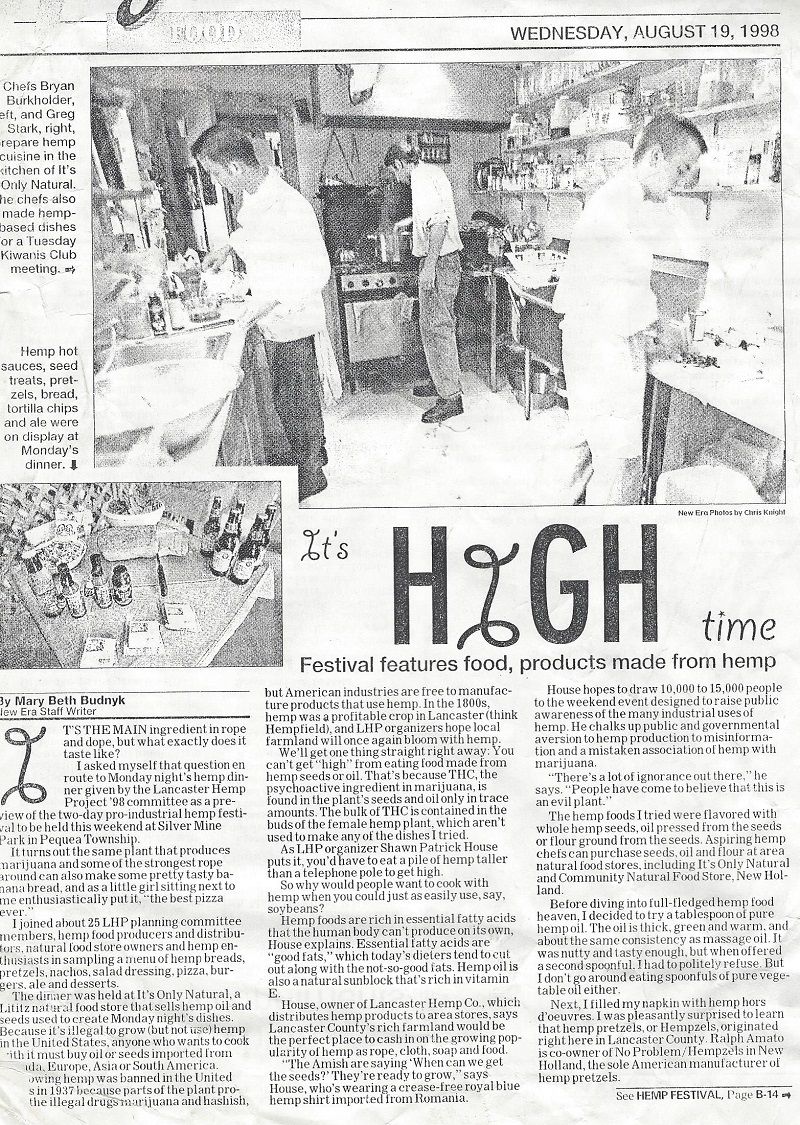 Newspapers proclaiming hemp foods banned!
Ban Hemp Foods - 2000-2004
Filings - Papers -
2000
..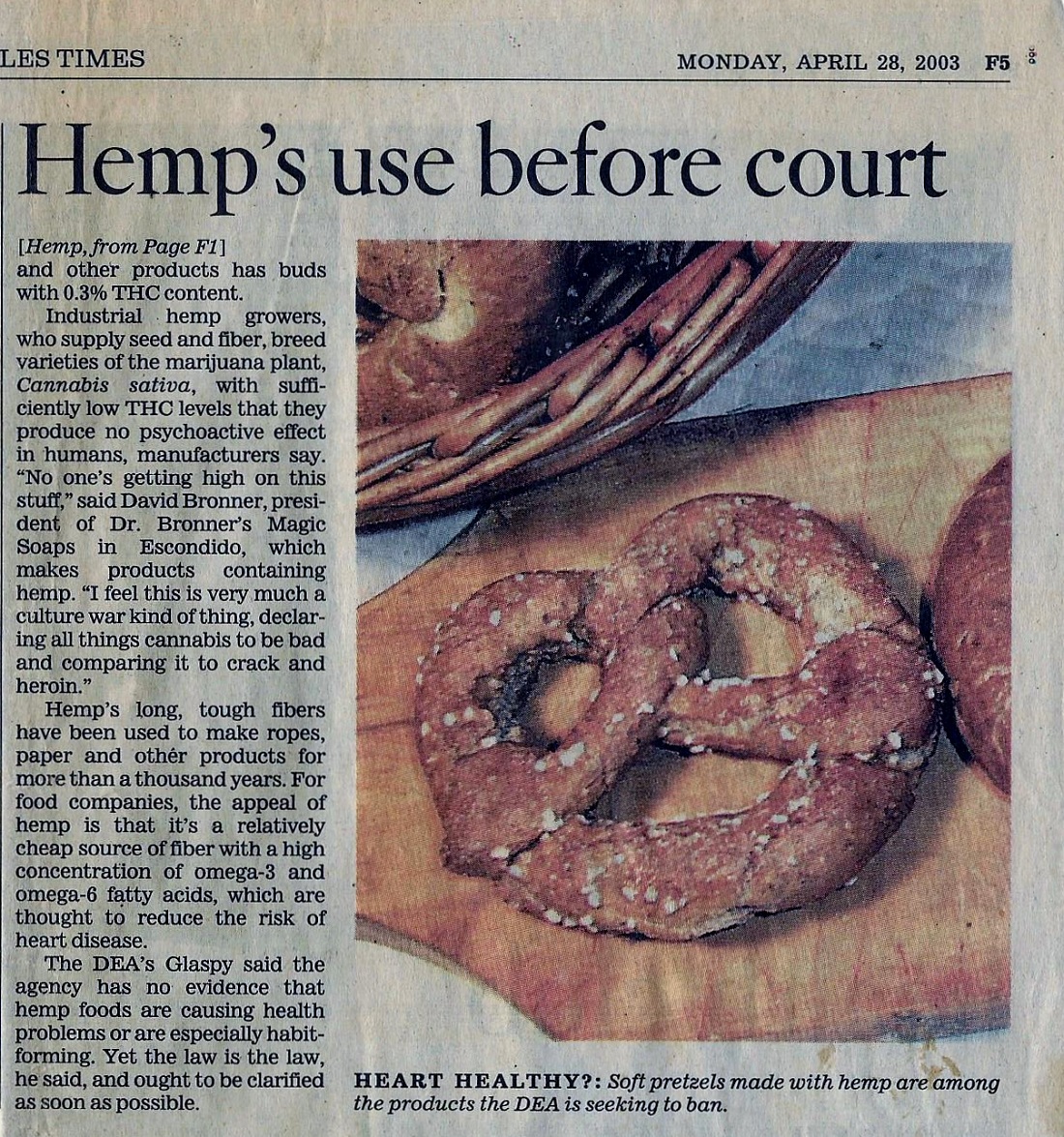 Hempcar visits Lancaster County July 2001 we are all optimisitic -
Wormtown Mass Music Fest bust / 3 days before 911
Sept 11, 2001 -
2001
.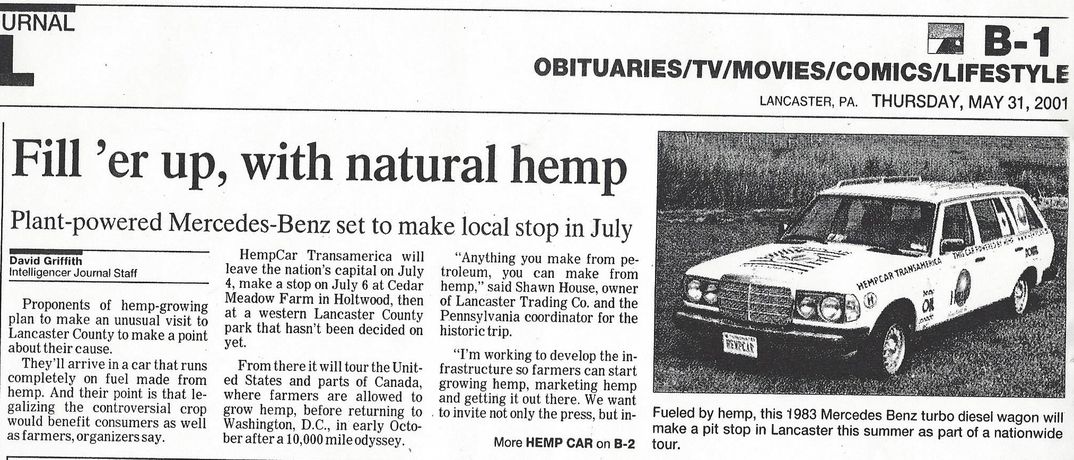 ...a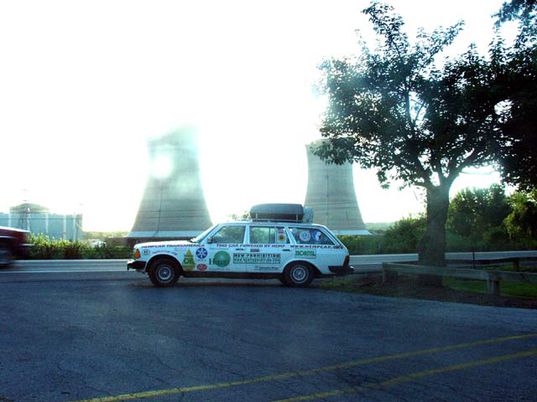 Peanut Butter Filled Pretzels ---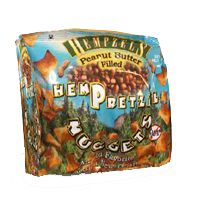 2002
...and switch the timeline contents to fit your needs.
...and switch the timeline contents to fit your needs.
add in new events - 2003 - content to add
2003
2004 content to add - hightlights - changes-
2004
..Incorporate as Lancaster Trading House, Inc. -
Start of NataliesChoice - Nut Butter, Baklava -
January - 2005 - Pennsylvania Farm Show - In through Food Service Contract -Introducing Soft Hemp Pretzels - Sourdough Pretzels in 10oz Bags -
2005
...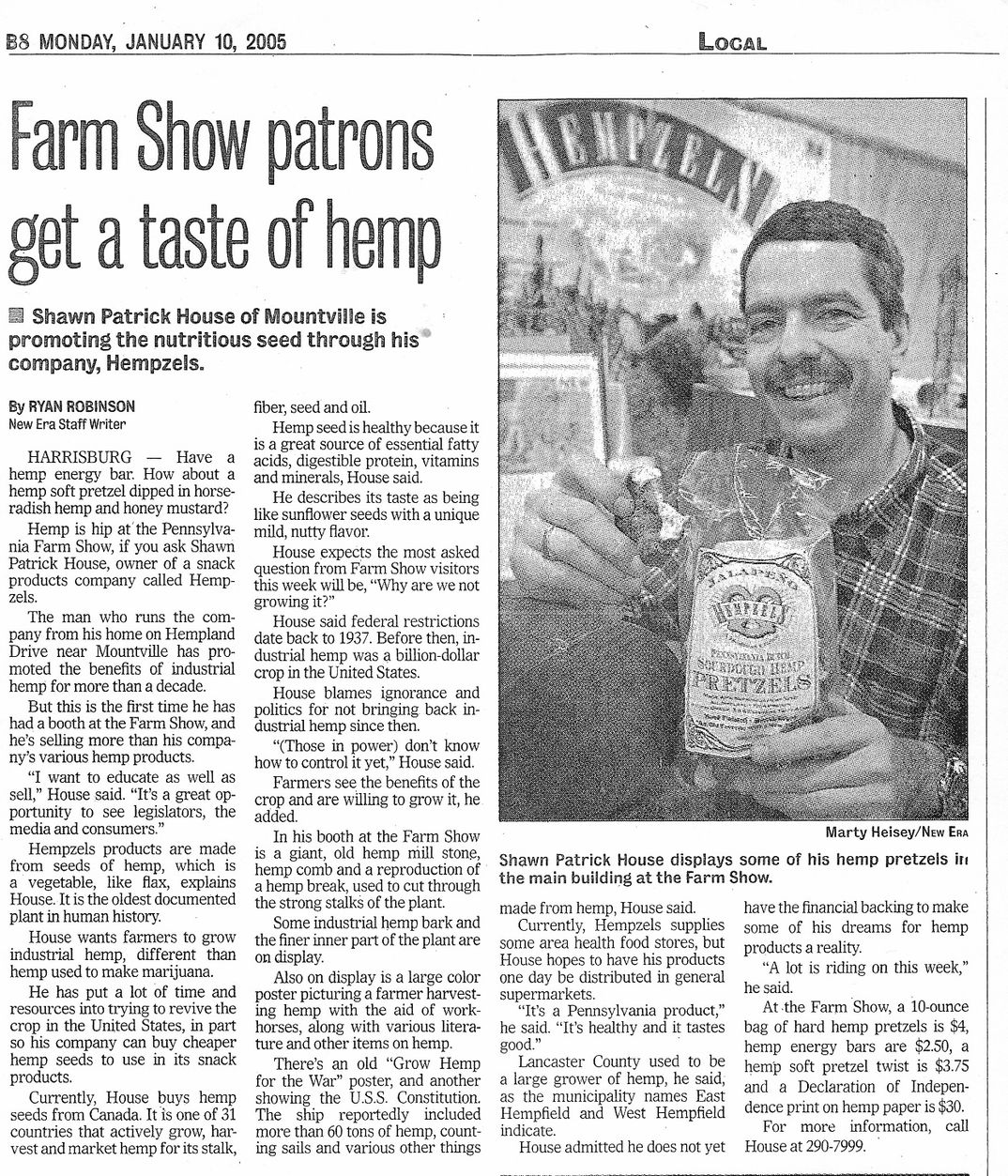 Hemp Baklava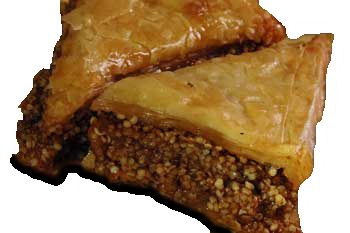 2006
2006 -2nd year at the PA Farm Show t.
Double-click an icon to change it.
2005 - 2015 Pennsylvania Farm Show Memories.
Best way to sow seeds of knowledge & change an attitude about hemp.
2008 / Hightlights - Peanut Butter Hemp Pretzel Nuggetz - Anderson Pretzels
2008
...and switch the timeline contents to fit your needs.
2009 - Highlights events -
Double-click an icon to change it.
2010 - Highlights 5th year at Farm Show
2010
2011 Farm Show PNB Nuggetz
2011
Pennsylvania Farm Show - Hemp MillStone picked up at Brian Burkholders - 3 Booths - Inthrough food service contract-
Steve Groff's Farm Cedar Meadow Farms
Starting 2018 - product changes -Farm Show Flooded Office
-
2018
Starting - 2019 fill in newspaper article /
Gourmet Food Show Introduce RSW CBD soda line - November.
2019
PA Farm Show Introduced CBD Soda's / addressing Flower & Flour from True Cannabis Hemp - Good Start
March Pittsburgh Home and Garden Show / Wester Farm To Table canceled half way through - all produced product brought back -
Major Beerfest postponed twice / third moved to 2021
2020
Release of new Webplatform Dec 29-Jan 1-2021
CoolHemp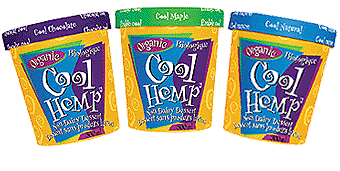 2021-2-3 Into the USA through Lancaster County Pennsylavnia
2
Introduction of the HEMPY Shovel - 8/18/2021 Wholesale/Distribution/Conceptualized in Lancaster County Produced in Pennsylvania. 25% Hemp/Cellulose based-
stronger - more durable 25% less petro-oil.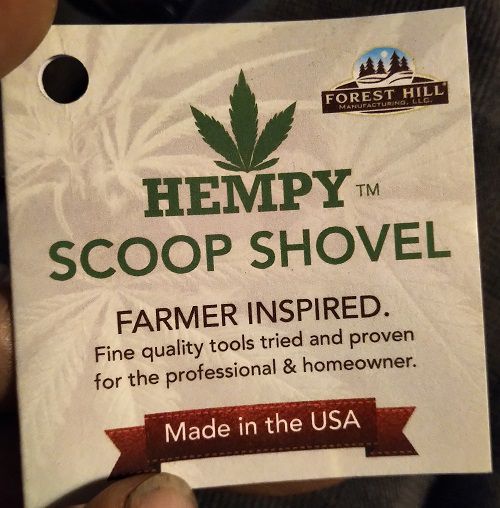 Search For An Article
We have amazing products in our shop, check them now !
This is a preview of the recently viewed products by the user.
Once the user has seen at least one product this snippet will be visible.
Recently viewed Products