Just Say Know Campaign
We don't stop believing. Manifestation & this is the documentation
"25 plus years ago a journey in hemp was started, I might just be the Forrest Gump of Hemp. This vision-quest started with Hemp Plus Pretzels = "Hempzels™", pretzels to mustards flour to flower - chemurgy from true Cannabis hemp.
It's quite a story and it's still hempening.
The goal ; solidify a position in the cannabis hemp industry, building a franchise with synergy partners.
"BE UNDENIABLE" Thanks Joe Rogan! I'm trying!"
Shawn P. House • CEO of Lancaster Trading House, Inc.

Hempzel's™ debut-history.
RIP Ralph Amato former CEO & President of No Problem, Inc. He financed and friends Mark Tucci of RYO & Muse "Uncle Don" Riese

Working with friends in Jamaica Ian and his wife Tamica were hand batiking hemp clothe that Ralph had local Mennonite ladies custom sew outfits.

Finding hemp seed meal the first hemp pretzels were created in Uncle Don's kitchen in York PA by his wife Jane.

The recipe changed with the introduction of shelled hemp seed thanks to Hemp Pioneer Richard Rose The Original Hemp Nut.

Over coming the ban on hemp foods, the financial collapse, creating a family and advocating for full decriminalization of Cannabis hemp this About page will highlight the history-our story about creating jobs, protecting the environment and growing Lancaster County Hemp.
Fast forward to 2022 and everything is changing but our mission is still the same, contract with our farmers, work with our partners, expand the network, develop more applications for True Cannabis Hemp whether agricultural / industrial or medicinal. We recognize & respect the whole plant. January 2022 will kick of the Chemurgy show at he PA Farm Show.
Pretzel Awards
Contact us
The mission remains the same 1-800-USE-HEMP in the USA..
For over 25 years it's been Hemp flour, seed, oil for pretzels = "Hempzels".
2021 it's expanded as Farm To Bottle Pennsylvania sourced cannabis hemp flower for healing salves & tinctures.
2022 - 2023 for Industrial hemp fiber textiles like HempVest or strengthening plastic for Hemphrisbee's™ & HEMPY'S™ Scoop Shovels (decarbonizing plastic tools)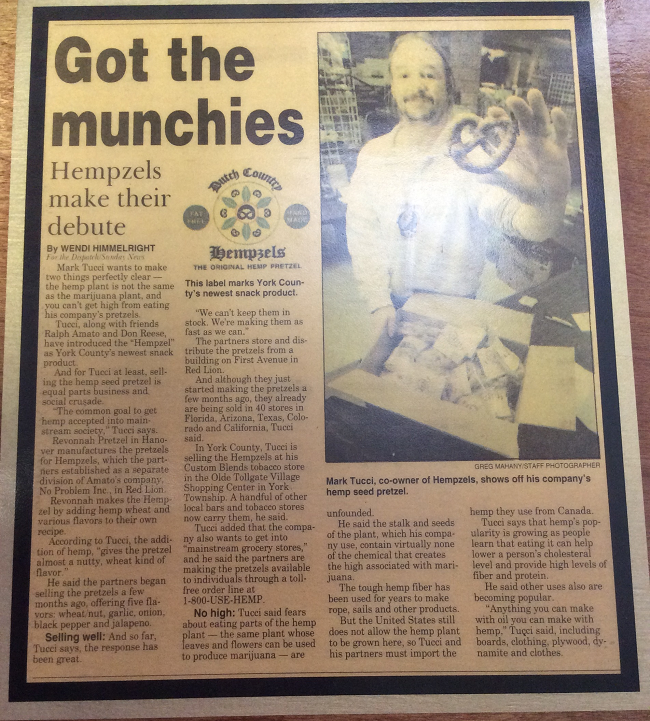 Hempzel's™ His-tory
Just Say Know Campaign A Life's Journey
3/7/2023 - This is still being filled in!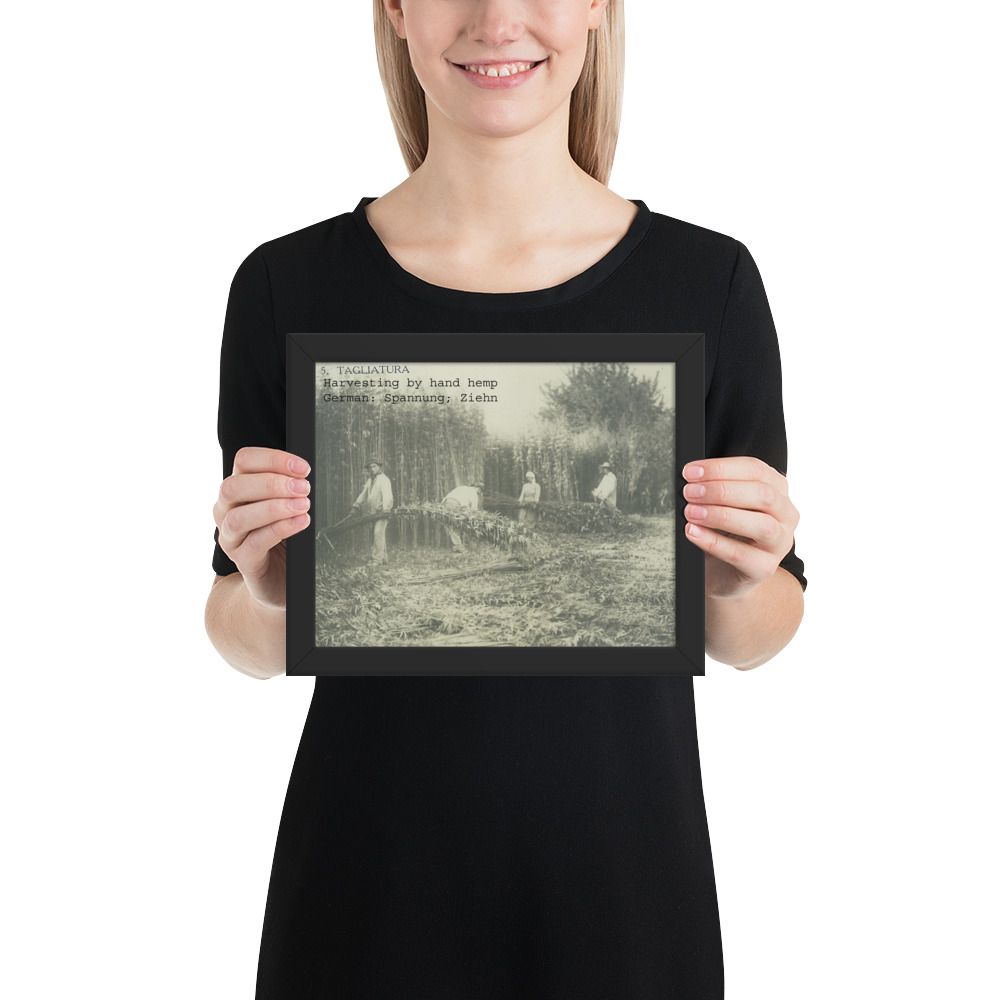 1994

...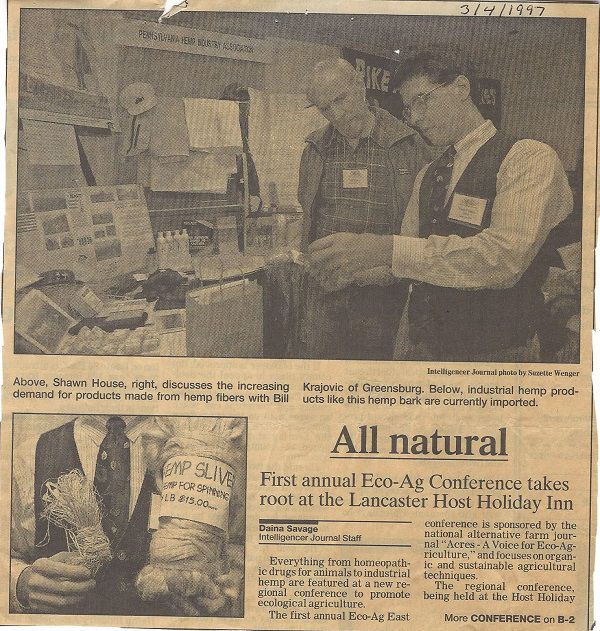 1997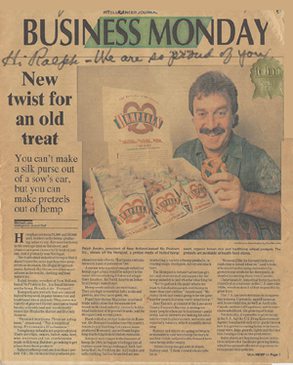 ...
1998 Lancaster County Pequea Silver Mine Project the day before -
...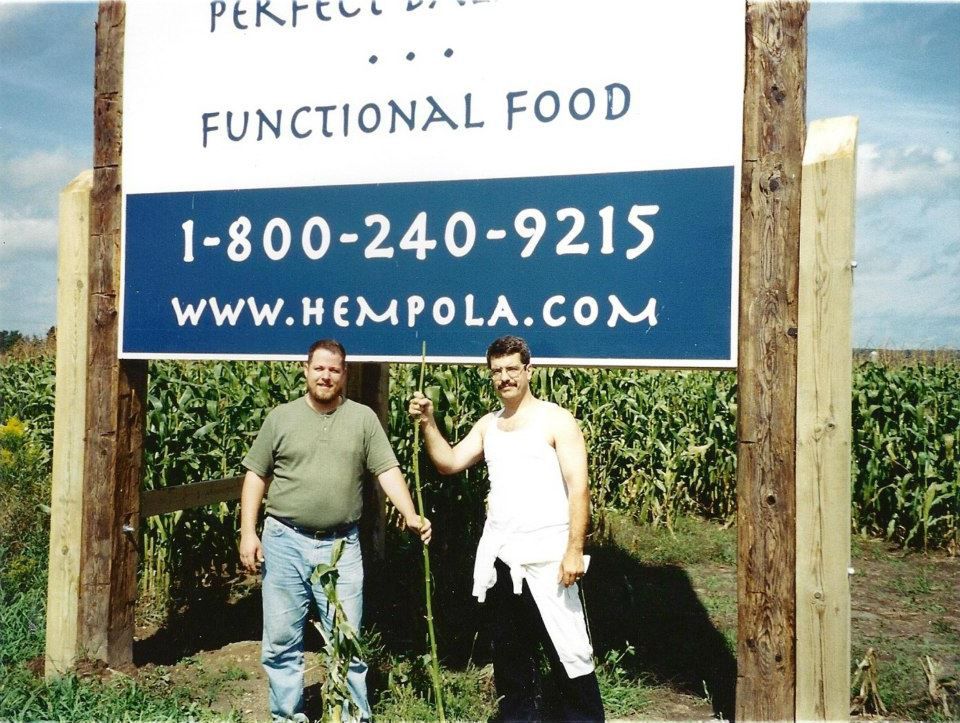 ...Jim Stark Hemp Historian & Shawn House at the Hempola Farm in Canada.
1999
..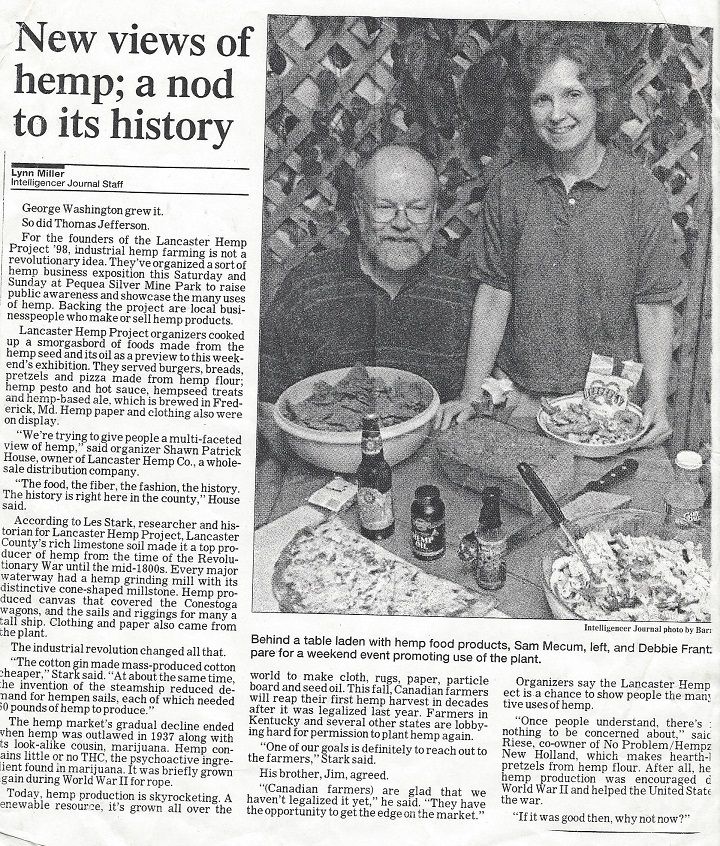 Newspapers proclaiming hemp foods banned!
Ban Hemp Foods - 2000-2004
Filings - Papers -
Thanks To Ronnie Harper of Fifth Estate Fame for Videotaping this on Steve Groffs Farm 3 months before 911.
2000
..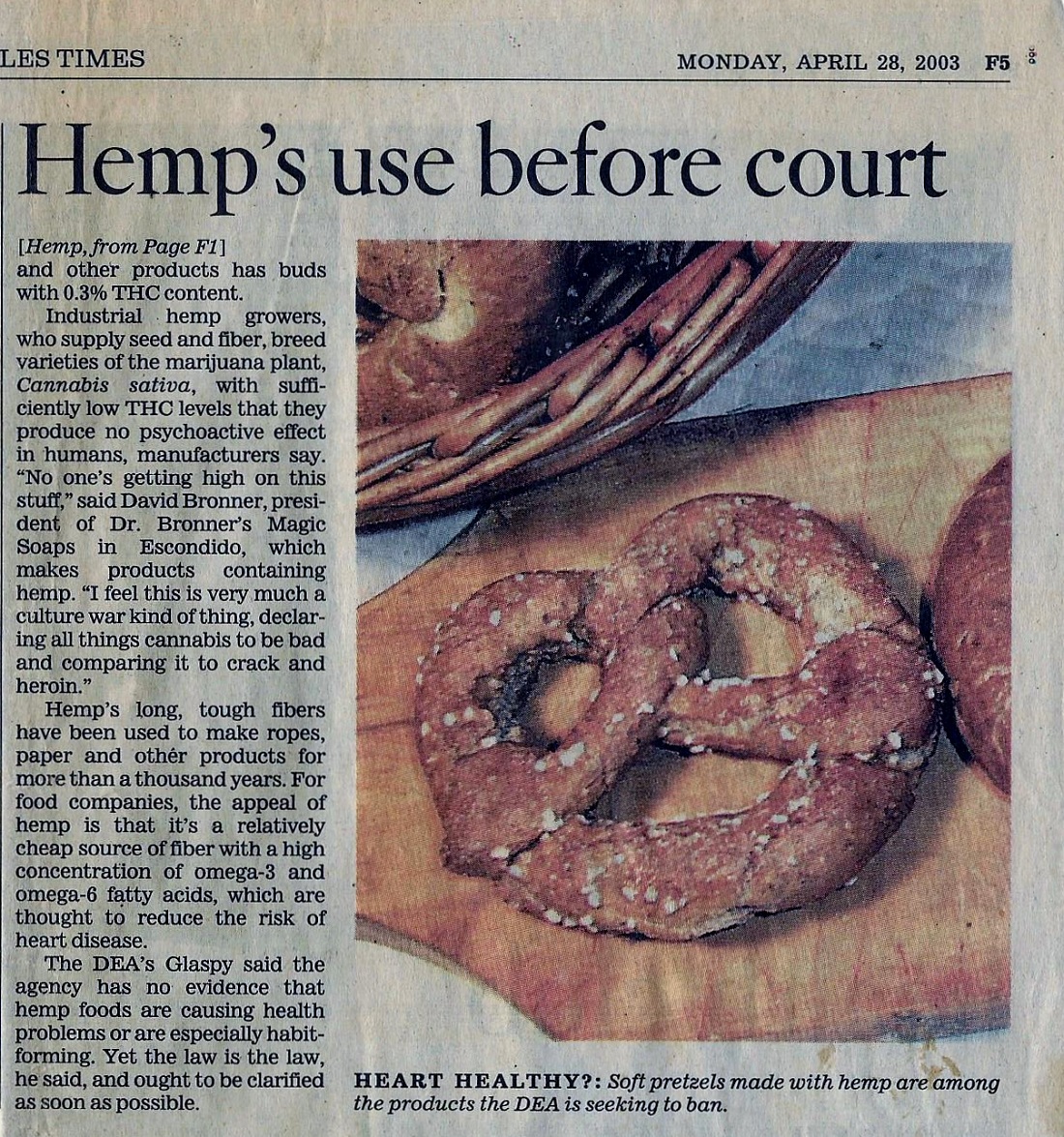 Les Stark shows the attendees the old fashioned way with a hemp brake.
Wormtown Mass Music Fest bust / 3 days before 911
Sept 11, 2001 -
2001
...a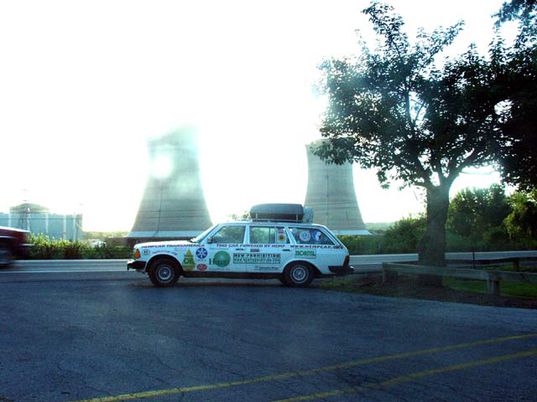 .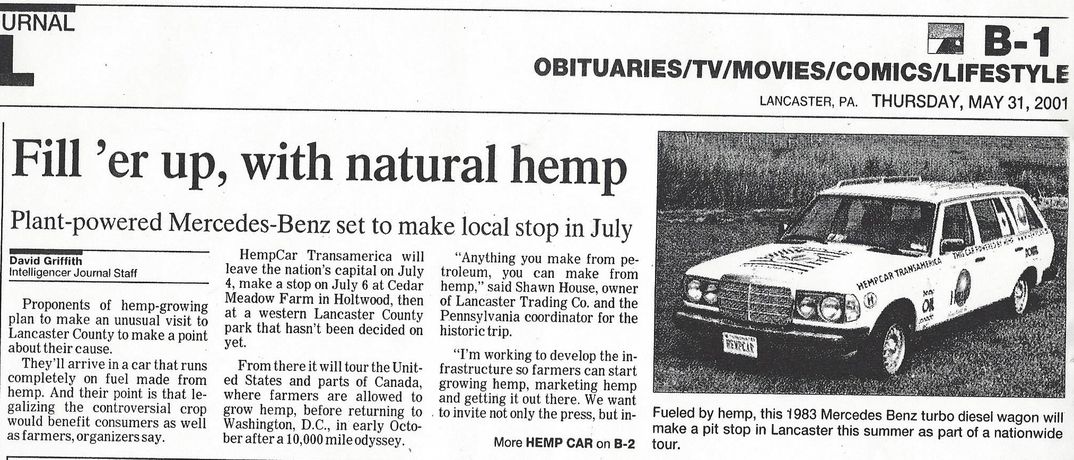 Peanut Butter Filled Pretzels ---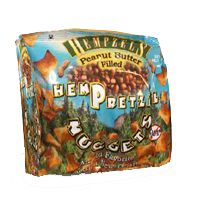 2002
Gourmet Food Shows Valley Forge / Lancaster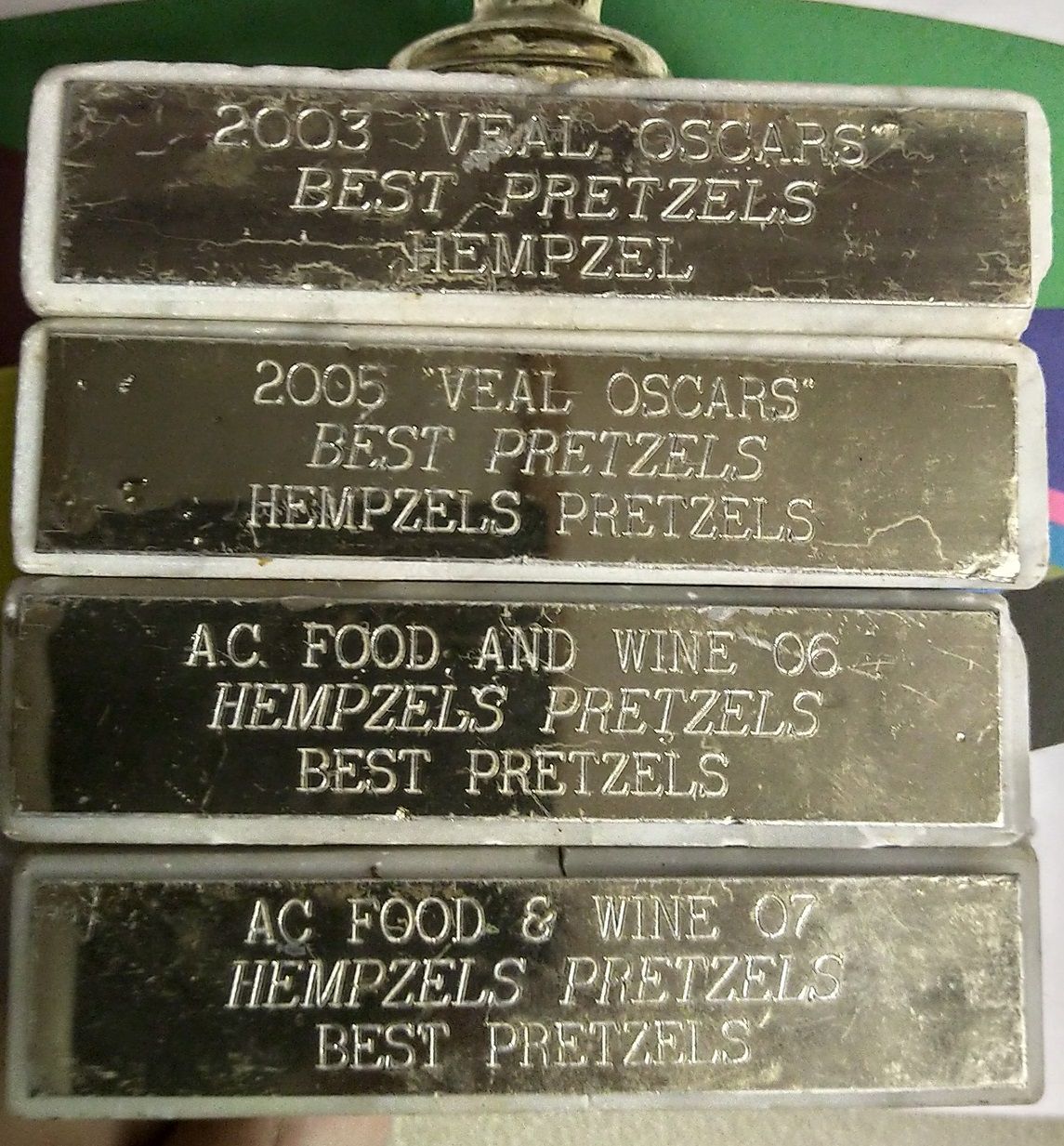 Vended at the first Rolling Rock Town Fair Event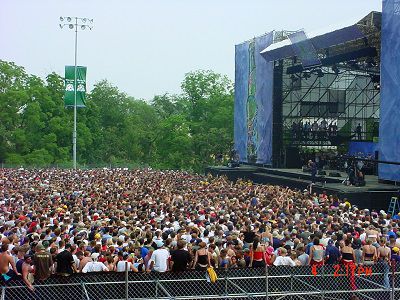 2002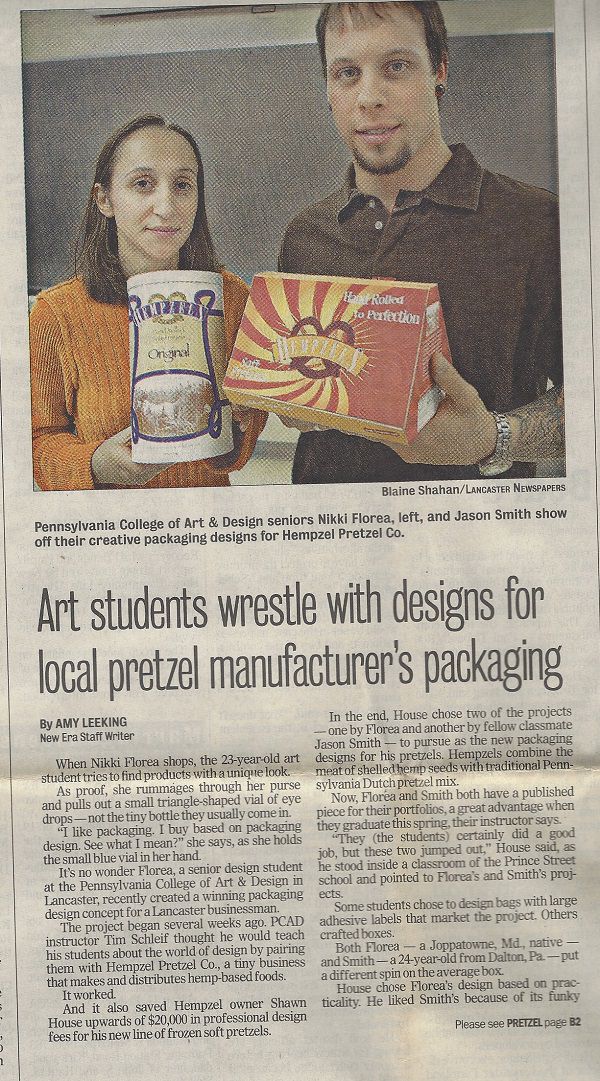 2003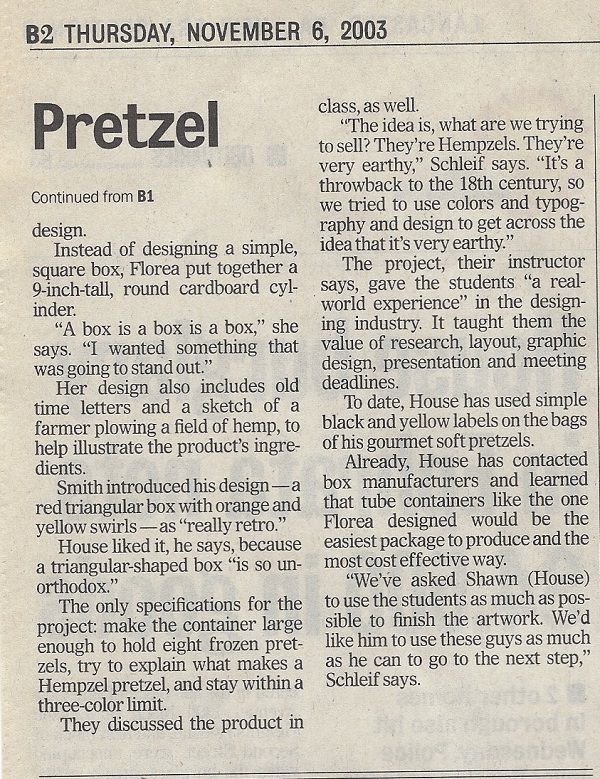 2004 content to add - hightlights - changes-
2004
..Incorporate as Lancaster Trading House, Inc. -
Start of NataliesChoice - Nut Butter, Baklava -
January - 2005 - Pennsylvania Farm Show - In through Food Service Contract -Introducing Soft Hemp Pretzels - Sourdough Pretzels in 10oz Bags -
2005
..PA Farm Show Start of the first hemp booth - introduction of Sourdough Hempzels and lots of history.
...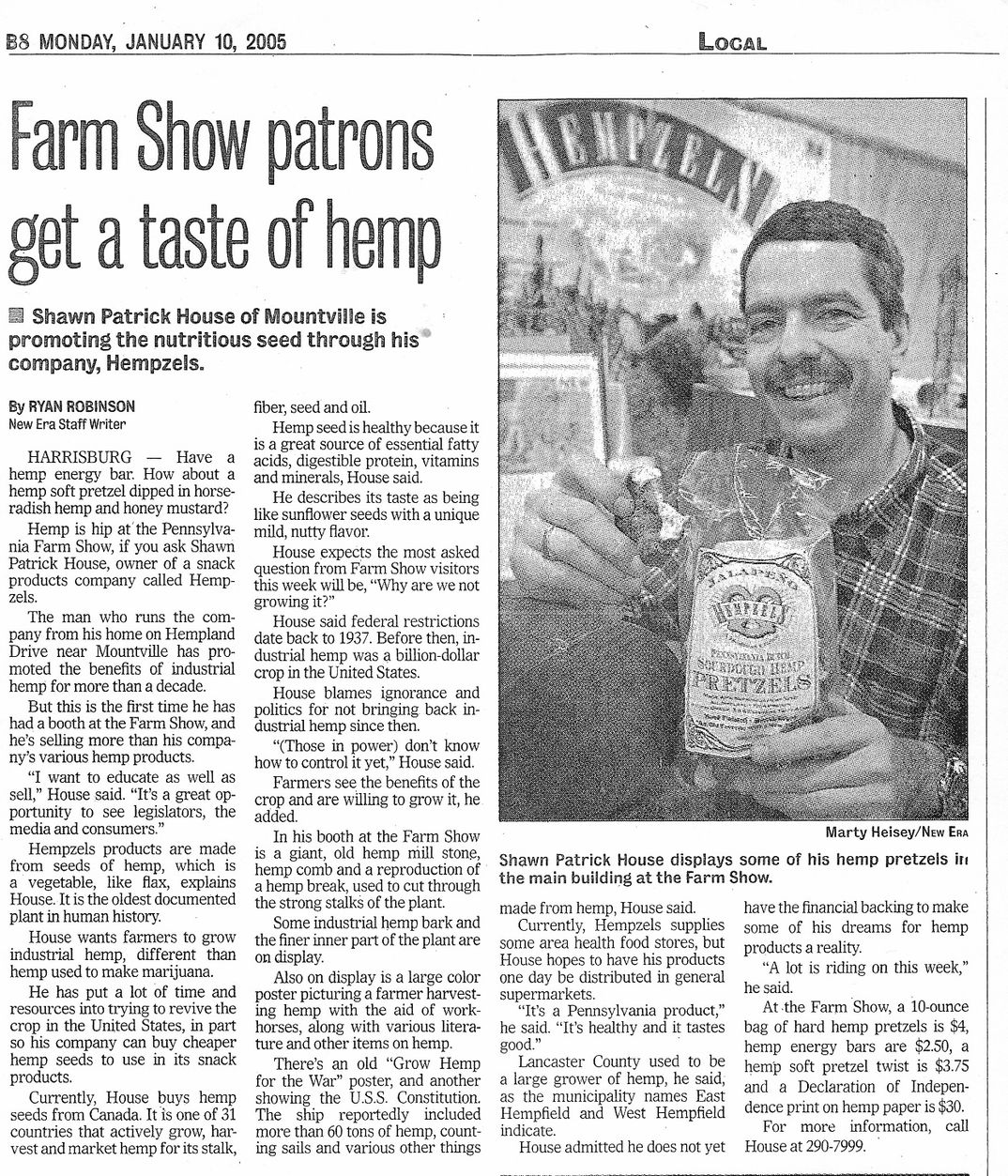 2006 -2nd year at the PA Farm Show t.
Interview on "Shark for Lunch" Mike of Talos4
2007 Interview at the Revonah Pretzel Bakery the "Original" -




2008 / Hightlights - Peanut Butter Hemp Pretzel Nuggetz - Anderson Pretzels
2008
2009 - Highlights events -
Fairy Festival Chris from Kimberton Whole Foods a former customer.


2010
In the Old Warehouse in Columbia PA Natlie shows me she can pull in the pretzels.
2011
Asked to Speak at Freedom Palooza 2012

Glenside Farmer's Market With Hemp Seed
2011
2012 Les Stark takes us on a tour of the booth..

2012
Atlantic City Gourmet Food Show - thanks to Brian for the Professional taping & thanks to Chef Guy Mitchell.

2012
2013 After Another Event with Promotor John Henderson of Good Time Tricyle Productions.
October 2013 Hell's Kitchen Winner Loves our Mustard.
Speaking at the Keystone Cannabis Rally in Harrisburg, PA on April - keep in mind I had just driven in from Michigan having participated in a Cannabis Fest ahead of Pennsylvania.
Being Interviewed in my old HQ's on Manor St in Columbia, PA.
Central Penn Business Journal 2015 - Picture from ABC News Harrisburg, PA - Old Columbia PA HQ's.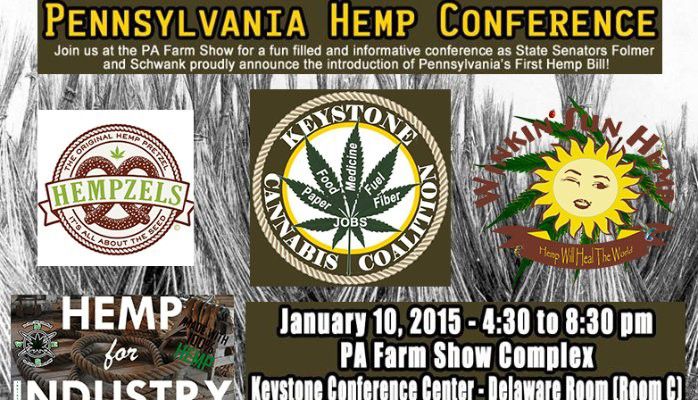 PA Farm Show on the Radio Berks County
2015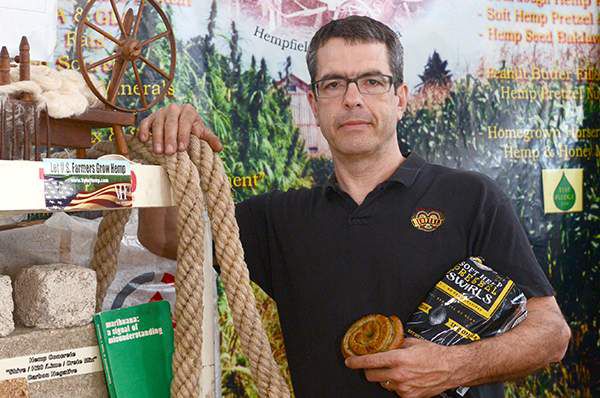 Lancaster County businessman Shawn Patrick House wants to believe the latest legislative effort to legalize hemp farming in Pennsylvania will succeed.
But he's been fighting long enough to know it's probably a long shot. Under Senate Bill 50 — introduced by Sens. Judy Schwank (D-Berks) and Mike Folmer (R-Lebanon) — the cultivation and processing of industrial hemp would be allowed as part of a research program at a college or university.

"It is just an opportunity for our farmers to keep their land and to grow a profitable crop," said House, who produces hemp-based products.

The potential profits are significant.

Canadian farmers are reporting net profits of $200 to $250 per acre of hemp, the Agricultural Marketing Resource Board reported. U.S. Department of Agriculture data puts 2014 profits from an acre of corn or soybeans at $365 and $288, respectively.

An Alberta Agriculture and Rural Development report estimates gross revenue for Canadian hemp seed production between $30.75 million and $34 million. In 2010, exports of Canadian hemp seed and hemp products were valued at more than $10 million.

The obvious hurdle is perception, of course. Hemp is the distant sister of cannabis, although supporters say hemp has none of marijuana's mind-altering qualities.

"Industrial hemp does not have a psychoactive effect. The THC level is less than 0.03 percent," Folmer said. "Misconceptions are withholding Pennsylvania from an opportunity for our agricultural and business industries to thrive."

Given the legal go-ahead, farmers could benefit from the demand for hemp in products ranging from paper to fuel and clothing to biodegradable plastics, said Schwank, Democratic chairwoman of the Senate Agriculture & Rural Affairs Committee.

The federal 1937 Marijuana Tax Act restricted industrial hemp production. In 1970, the Controlled Substances Act made hemp illegal, although the 2014 Farm Bill loosened production restrictions.

"We need to get on board with this," Schwank said during a recent conference call. "After all, 200 years ago it was a pretty prominent crop in Pennsylvania."
PA Farm Show on the Radio Berks County
2016 - House 2 Congress Campaign
Politically active Shawn is the Libertarian Candidate for the 16th Congressional District Challenging Lloyd Smucker, who is still the elected representative.
2016
State Rep Eric Neslon at the booth .
2017
...and switch the timeline contents to fit your needs.
PA FARM SHOW January 2017
2017
June 2017 Hemp Seed is being planted
2017
Rick Kunkle Master Brewer with his version of Hemp N Ale
Double-click an icon to change it.
2016 - House 2 Congress Campaign
Politically active Shawn is the Libertarian Candidate for the 16th Congressional District Challenging Lloyd Smucker, who is still the elected representative.
2018
Pennsylvania Farm Show 2016 -
2019
...and switch the timeline contents to fit your needs.
At Groff's Farm 2020 Set up Hemp Museum
2020
Edit this text and change it with your content.
Edit this text and change it with your content.
Double-click an icon to change it.
Hemp Bio Plastics - HEMPY
Look whose making shovels in Lancaster County Steve Groff held it up - I knew that company - I introduced them to hemp information in 2006.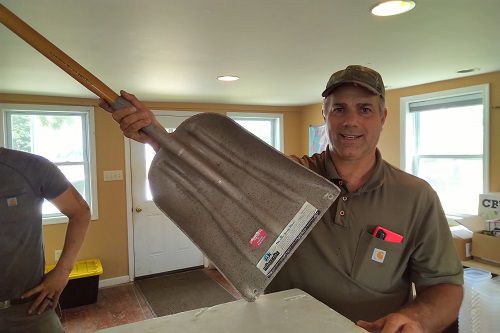 2021
HEMP FOOD ASSOCIATION
Our Hemp Guru Richard Rose restarted the HFA and we have been hempy to be included since the beginning.

2021
American Hemp Flour & USA Hemp Flour Used in Increasing the protein in their bread as we've acompished with our Hempzels(tm) soft Pretzels. July 11, 2022
2022
...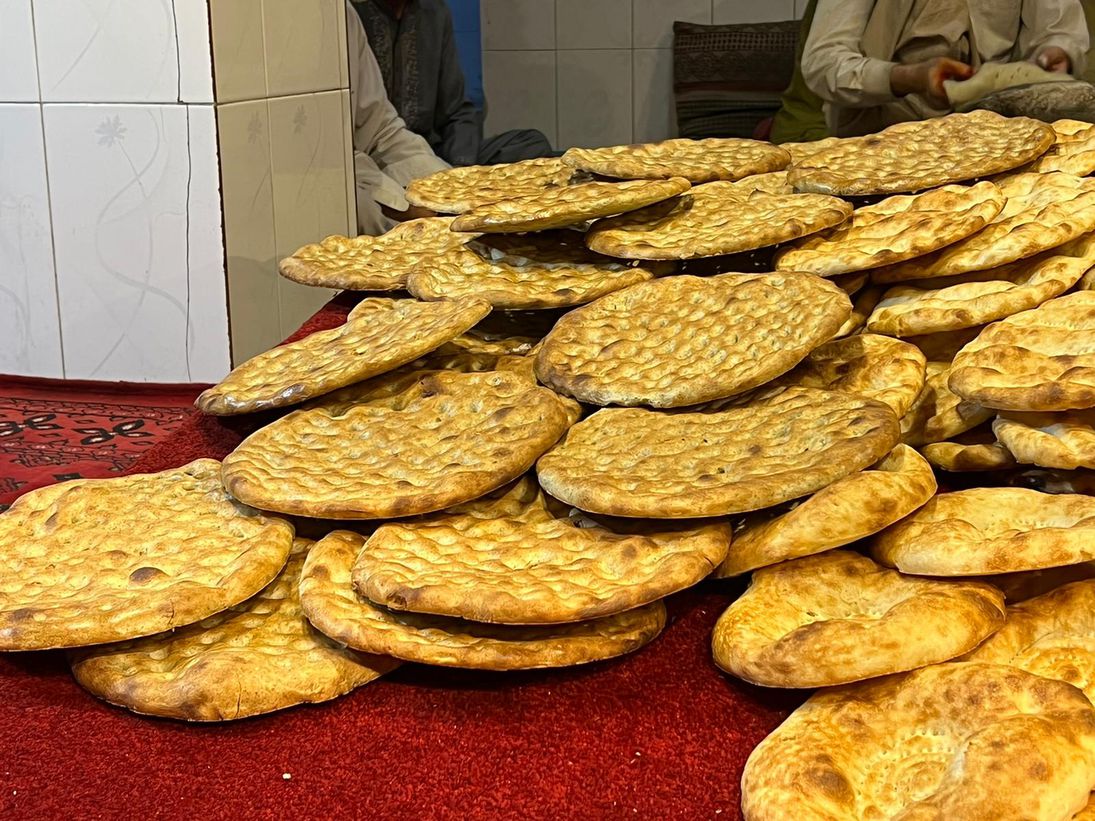 Afghanistans liked the flavor too!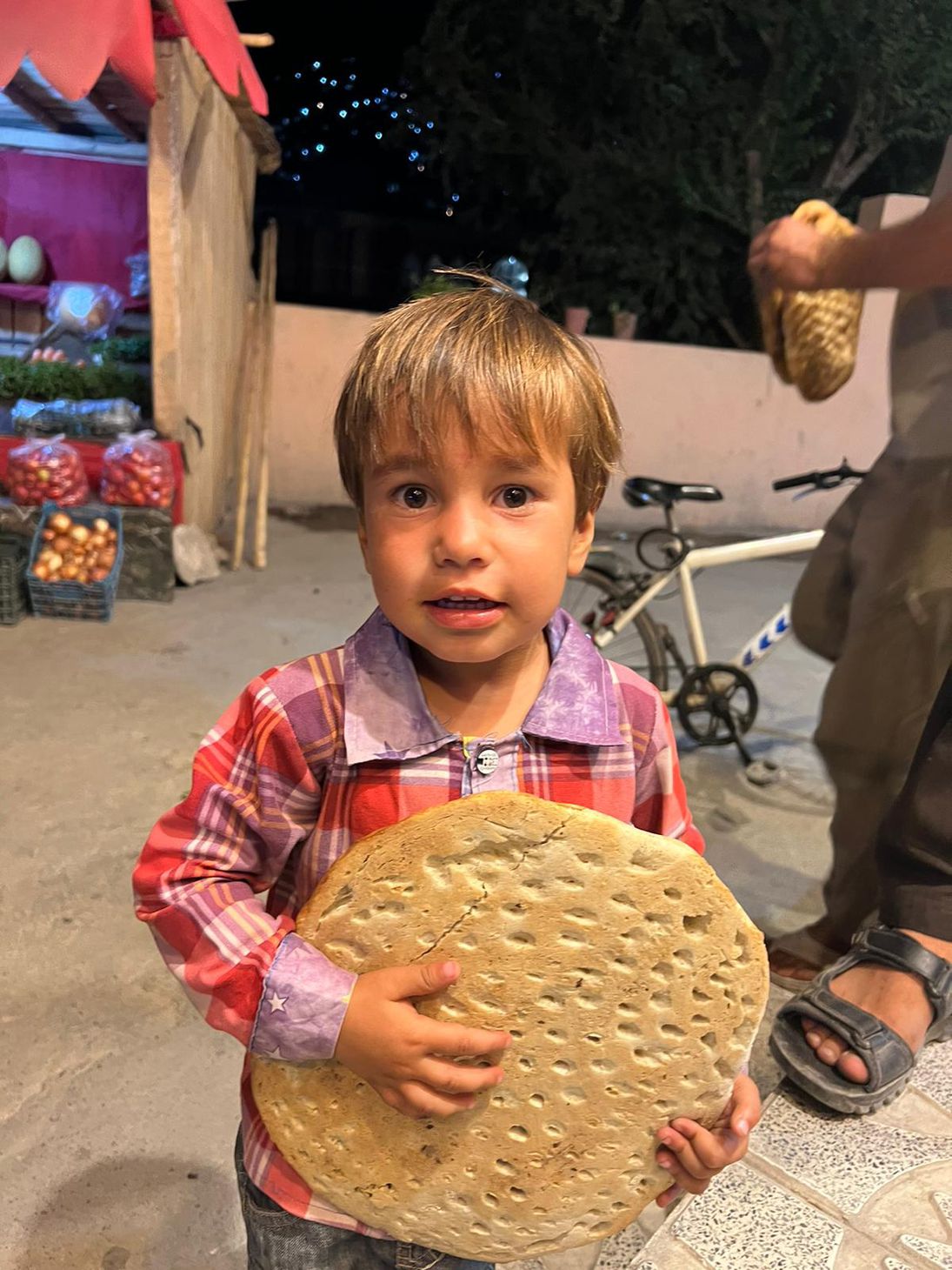 2022
...Courageous Conversation In Media, PA 10/10/2022 Owner Shawn House & panel with Senator Tom Kearsey, Ann & Jerry.
January 7th - 14th 2023 PA Farm Show.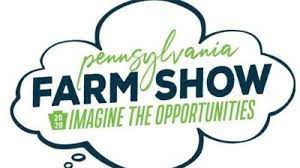 2023
Edit this text and change it with your content.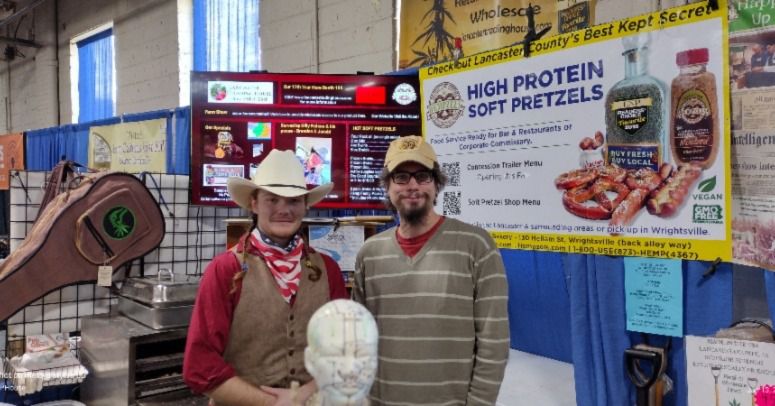 Two Main Helpers January 7th to 14th thank you Dylan aka "Dilly" Nelson & Brendan on spot OG hempster.
2005 - 2015 Pennsylvania Farm Show Memories.
Best way to sow seeds of knowledge & change an attitude about hemp.
Search For An Article
We have amazing products in our shop, check them now !
This is a preview of the recently viewed products by the user.
Once the user has seen at least one product this snippet will be visible.
Recently viewed Products
Lancaster County the #1 non irrigated farming area in the whole USA.
Please Understand with this new industry should come restitution to those who have suffered from this criminal War on the Cannabis Hemp Plant thus the continued call louder to #AbolishTheDEA.
GE was a broad network of energy companies - ADM started with flax seed - The Lancaster Trading House, Inc is the portal creating a team & resources since it's always been about the hemp seed. This network continues creating the infrastructure from Pennsylvania outward. Where is our six degrees of separation? Let's get it going 2022-3-4.