We'll be producing for the new year our Traditional Sourdough - rich dark color with plenty of salt & packaged in 1 lb bags.
This is Uncle Henry's Pretzel Bakery one of our Exclusive partners who hand rolls, stone hearth bakes & hand packages our hemp plus traditional sourdough pretzel. The difference compared to our "Original" is the lack of brown rice flour and baking process and location - Revonah in Hanover..
Enjoy these at the Pennsylvania Farm Show January 8th 8am-9pm - Saturday til the following Saturday 8am to 5pm in the PA Marketplace booth 109 where we've been set up the last 15 years. Near the MaClay St. Entrance.
We are dealing with 2 of 4 Pretzel Bakeries making pretzels the time honored tradition of hand rolling, hearth baking. A unique taste, flavor and crunch. Addictive.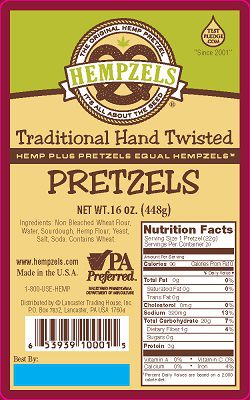 Lancaster County
One pound bags for 2022
120 shelf life - twist tied
Sourdough Wheat
16 oz Bags