Relief Salve Calendula & Citrus External Skin Relief
Use on dry skin, psoriasis, eczema, minor cuts, burns, abrasions. Over surgery scars - 
Our largest organ is our skin, take care of it over the years it needs protection.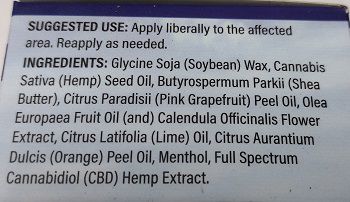 Ingredients; natural.
Another wonderful salve that is available in two sizes, sealed & boxed.
All natural ingredients; CBD Sourced from Cedar Meadow Farms in Lancaster, PA Internal Good Health
Full Spectrum Hemp Oil Extract for our nervous system, pain management and well balance. 
Taken sublingually under the tongue or with juice or another liquid.
Take as needed based on body weight.
Especificaciones para Relief Salve Calendula & Citrus
Esta es una vista previa de los productos vistos recientemente por el usuario.
Una vez que el usuario haya visto al menos un producto, este fragmento será visible.
Productos vistos recientemente