Soft Pretzel Stix Bag (24) by Hempzel™
Prep Instructions
Shipped frozen with salt they will thaw,         Conventional or toaster oven
Preheat your oven 350 degrees.

Thawed Simply moisten with water, olive oil,  coconut oil or melted butter,


Sprinkle them salty or sweet. 


3-5 minutes and serve 

 Microwave: Place pretzel stix on   microwavable plate and heat on medium for 20 to 30 seconds.



Individually wrap and refreeze. 
VEGAN / GMO free

Ideal Size for those who have had Gastric Bypass Surgery (2 oz vs 4)
Shipping Best Way
Important notice: These pretzels will be shipped USPS 1-2 day priority if you are close to Lancaster, Pennsylvania.
Fedex Ground is the next best for next day

All States WEST of AL, TN, KY, IN, & MI we need to ship Next Day Air - so place your order & we'll look at shipping & adjust and than invoice you . Orders are shipped Mondays through Thurday. We also use the USPS Priority option. 24 Stix Regional B Box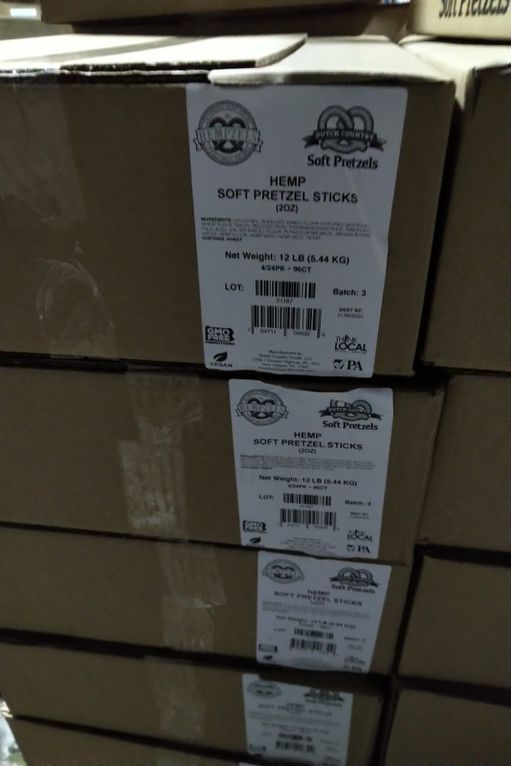 Bake On Demand
Fresh Bake & pick up or Fresh Bake & Frozen Pickup - 50 lb minimum.  
Food Service Boxes
24 - 2oz Stix per bag with salt packet. 

4 Bags Per Box

96 stix per case 12 lbs
Premium Dutch Country Soft Pretzel with the addition of hemp seed, hemp flour and hemp oil.  
Esta es una vista previa de los productos vistos recientemente por el usuario.
Una vez que el usuario haya visto al menos un producto, este fragmento será visible.
Productos vistos recientemente