Cannabis Productions
T-Shirts- Towels - Coasters - Post Cards - Books - Cannabis- Ephemera - Educational - Licensed.
Cannabis Collectibles "Just Say Know"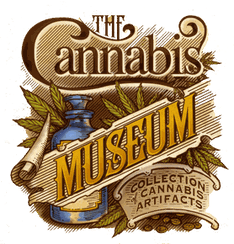 Licensed To Sell
What good is history if we do not know of it or about it like Cannabis? With over 3000 unique pieces of Cannabis Apothecary and Curriculum that any learning institution starting to offer course should contact us to find out what the Cannabis Museum offers in archival prints beautifully framed or in a format for students to appreciate the pharmacopia past. 2021 -2 -3 more will be added.

Discover more
His-Story Our Story
We are going to take the best & make limited run T-Shirts - Towels - and more besides other cool Cannabis Collectibles for the end of the 100 year prohibition against a plant. Wear and know it. T-shirt to the right 1912 US Sheet Music Dopy Rag - Sizes Available Small to 3 XL $19.95